Sandeep Bhat
About Me
Download a PDF version of my
resume
here. To know more about me scroll down. For the very "latest" click on
Archived News
.


What I do now @Eyenuk
After graduation I have joined a startup
Eyenuk
, based in Woodland Hills,CA. We work on image processing, computer vision, and machine learning technologies for retinal and consumer images.
What I used to do @UCSB
I graduated with a Ph.D from the Department of Electrical and Computer Engineering at University of California, Santa Barbara. I worked on Biological Image Processing in the Systems BioImaging Lab with Prof. Michael Liebling. The above image is of my space in the lab and the image below is of our Microscope room.
My Past...in a nutshell
I was born on in Kumta, a small town on the west coast of Karnataka, India. Later my parents moved to Bangalore. My dad was an Accounts Officer in A.G's Office Bangalore. My mom works at Indian Bank. They always expected me to do well at school but never pressurised me too much. Having very supportive and understanding parents has helped me become what I am today. I have a younger brother, who like all brothers is annoying and lovable at the same time, he now works for Microsoft.
I did all of my academic learning until 2003 in Bangalore. Then I joined Ittiam Systems in Bangalore and worked there in the Media Processing Group till 2007. While in Ittiam, I fell in love with Malavika. We got married in 2006. In 2007, we both decided to quit our jobs and come to UCSB for our PhD. Back in school, we have been living in Goleta since September 2007.
What I like to do....other than work ;)
I love photography. I was bitten by the shutter bug back in 2005 and I've been an ardent photographer ever since. 2006 - 2008 did see a slow down in my photography. I have made a come back in 2009 with my newly acquired DSLR, Nikon D90. Read more about it here....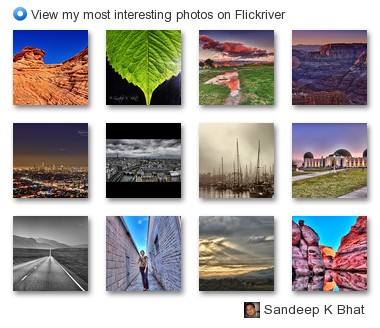 I love to play squash and am pretty good at it (Skand, my ex-squash partner and Jonathan my current squash partner can back me up ;)). An hour of squash is better than running, cycling, walking, swimming. No wonder it was voted "the world's healthiest sport" (Forbes Magazine). I used to play intermittently during my working years in Ittiam. But I have taken to playing it more regularly here at UCSB. Checkout world no. 1, Nick Matthew, telling you how to play squash.
If you are serious about squash, like me, then you care about what squash gear you use. Choosing squash equipment is a confusing and demanding task. You need to find the things that are just right for you (and in your budget ;)). Here are some details on my what I use for playing Squash:
I buy all my squash gear on squashproshop OR amazon. I've always had a pleasant customer service experience from both and would definitely recommend them.
Dunlop Blackmax Titanium

: Been using this racquet for over 2 years now, not broken the strings or the frame. It has held up really well to all my abuse. Unfortunately it's no longer made or sold and the replacement model, Blackstorm Titanium, is "fragile".

Technifibre Dynergy Tour

: I bought this racquet in Jul 2011 after a brief stint with Head Flexpoint 130 racquet. The Head racquet broke in only 4 games and after several email exchanges with squashproshop.com I got a refund for it. After reading online reviews for a stiff, durable racquet, Ibought this Technifibre racquet. I am glad to say that it's the best racquet I've ever used. It looks great, plays great and is durable. Worth every cent !!!

If you like teardrop shaped racquets like me, then buy

Technifibre or BlackKnight. Both have great selection of stiff, powerful and durable racquets around the $100-150 range, unlike Head, Dunlop or Prince.

Technifibre X-one Biphase String

: Power, playability and durability, deadly combination :) Provides good "feel" for the ball. Great overall string that is used by several Pro players.

Dunlop Pro Double Yellow Balls

: They take quite some beating before giving up.

Karakal PU Super Grip

: Love their tacky feel. Plays well in my sweaty palms.

Wilson Overgrips

: Great way to keep the handle dry without having to shell out $$ for replacement grips. I reverse them after about 7-8 uses (one month) and they last me another 5-6 uses.

ASICS Gel-Rocket 5 Shoes

: Not very expensive. Very comfortable to wear and play, even in hot, humid conditions and provides good traction in all parts of the court.
Fog Tech Anti-fog solution: For someone who wears prescription glasses, fogging of specs is a very common problem. This worked like a charm to solve that problem and I don't have to wipe my glasses even once during an hour long squash session.
http://www.squashgame.info/ is a great place for information on squash gear.
If you have any questions regarding any of the above equipment don't hesistate to email me. Cheers :)
I love to work out. During my freshman year in college, I was 6'1", 141 lbs (skin and bones). Then I took to weight training and when I left college I was 158 lbs (mostly muscle). I hardly used to workout as a Software engineer and hit a high of 178 lbs (hardly muscle :)). Then I took to working out again and have never quit since. Now I hover around 170 lbs (good amount of muscle) and push hard everyday to loose another couple of pounds....
I am a movie buff. Once I came to the US, I thought my TV and movie watching days were over; P2P is highly monitored on UCSB networks ;) and we don't have a TV here. But then I discovered Netflix. This and a whole bunch of sites that allow you to watch TV shows and movies for free has kept my movie craze going....
I love reading comics. I can still admit that I like reading comic books better than reading novels. I am a bit of an artist myself, so I am all the more fascinated by the colorful comics. I grew up reading Asterix, Tintin, Archies, Phantom, Tinkle and a whole bunch of Amar Chitra Katha comics. I still read them when I am back home. Lack of time has made me love comic strips even more. Calvin & Hobbes is my all time favorite. In addition I am regular reader of PhDComics, SpikedMath and XKCD
I loved to RJ. At UCSB I found a passion for music as a Radio Jockey for the India Show on KCSB 91.9 fm. I have always had a good knowledge base of Hindi and South Indian (particularly Kannada) songs and it was fun to put it to good use. I got good feedback for the shows that I did and keept it up for as long as I was at UCSB (2009-2013). The show stopped airing in beggining of 2013 due to lack of RJs, what a shame !!!!
Check out KCSB at www.kcsb.org/webcast
site info
Tools and resources I used for creating this website.
© 2009-2013 Sandeep Bhat | Original design by Andreas Viklund
$LastChangedDate: 2013-01-24 17:38:29 -0800 (Thu, 24 Jan 2013) $